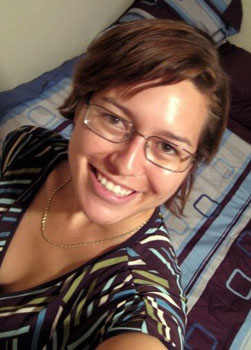 Nicole L. Jardine
Research Assistant
nicole-jardine(@)uiowa.edu
Curriculum Vitae [ download: PDF, 164kb ]
About Me

For two of my undergraduate years at University of California Irvine, I worked with Emily Grossman and her lab studying how the human brain computes the motion of people performing actions. I conducted four neuroimaging experiments about how the biological motion-sensitive STS region encodes actions from different viewpoints (left or right, near or far). During my time in the Grossman lab I learned a great deal about motion perception, neuroscience, and science in general.

I enjoyed vision science so much, in fact, that I decided to apply for a job as a research assistant at Vanderbilt University where, over the last two years, I have been working with Adriane Seiffert designing experiments to see what kind of visual information the brain uses while attending to moving objects.

This summer I will be joining Cathleen Moore's Iowa Perception and Attention Lab as a graduate student at the University of Iowa! I look forward to researching more about what sensory information the brain uses to perceive and represent visual space.
Current and Future Interests

I have been working with Adriane Seiffert and her lab for the last two years, studying how the brain attends to multiple moving objects. I've been fortunate to assist the graduate and postdoctoral students in a variety of experiment types and techniques, ranging from psychophysics to virtual reality. My research focuses on how the brain uses visual information it is given. As these objects move, what features do we use to keep track of them, and under what circumstances do we discard information?

My non-academic interests include photography, scuba diving, and solving anagrams.

_____________________________
Education

University of California Irvine, Irvine CA, B.A. with honors in Psychology, 2008.
Advisor: Emily Grossman, Ph.D

National University of Singapore, Singapore, Study Abroad Spring 2006

Manuscripts

Jardine, N. L. & Seiffert, A. E. (Under revision.) Orientation affects recovery.
Grossman, E. D., Jardine, N. L. and Pyles, J. A. (2010). fMR-adaptation reveals invariant coding of biological motion on human STS. Frontiers in Human Neuroscience. doi:10.3389/neuro.09.015.2010

Posters
Jardine, N. L. & Seiffert, A. E. (2010). Investigating virtual object structure in multiple object tracking [Abstract]. Journal of Vision, 10(7):314, http://www.journalofvision.org/content/10/7/314, doi:doi:10.1167/10.7.314. Poster presented at the Vision Sciences Society Annual Meeting, Naples FL. [ download PDF ]

Jardine, N. L., & Seiffert, A. (2009). Shape influences target recovery after a blank in multiple object tracking [Abstract]. Journal of Vision, 9(8):243, 243, http://journalofvision.org/9/8/244/, doi:10.1167/9.8.243. Poster presented at the Vision Sciences Society Annual Meeting, Naples FL. [ download PDF ]


Positions and Research Experience
Vanderbilt University, Nashville TN
Advisor: Adriane Seiffert, Ph.D.
2008-present
Research Assistant
Perception, Attention and Control Lab
University of California Irvine, Irvine CA
Advisor: Emily Grossman, Ph.D.
January 2007 - June 2008
Research Assistant
Visual Perception and Neuroimaging Lab
Honors and Awards
2008 - School of Social Sciences Order of Merit
2006-08 - Honors in Psychology Program
2004-08 - Campuswide Honors Program
2008 - Summer Undergraduate Research Project Grant, UCI
2008 - Undergraduate Research Opportunities Program Fellow, UCI
2007 - Summer Undergraduate Research Project Grant, UCI
Relevant Coursework, Teaching Experience, Professional Memberships

See CV.


[ top ] [ People ]