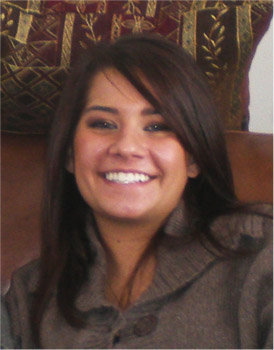 Christina L. Blaxton
christina.l.blaxton(@)vanderbilt.edu
Curriculum Vitae [ download PDF ]
About Me: Past and Present

After working with Dr. Stephen Engel and Dr. Yuhong Jiang at the University of Minnesota my research interests became concentrated in the area of attention. I find myself dedicating time and thought to how it is the brain allocates attentional resources through space and time. Currently, I have begun using eye-tracking as a method to study this question. My most recent eye-tracking project aimed at discriminating between the fixed vs. flexible theories of attentional allocation. For more information on this project, check out the poster that I presented this year at VSS 2011.

I am also interested in what constitutes a visual object in which we attend to. Also, I hope to pursue research in order to disambiguate the interplay between the attentional and memory systems.

Current and Future Interests

This fall I will be starting my first year of graduate school at Johns Hopkins University in the Lab of Dr. Howard Egeth. I am very excited to further my career and pursue my research interests under his supervision.

When I am not attempting to discover how the brain works I spend time with my fiancÚ and friends exploring Nashville. I also enjoy reading murder mystery novels (Stieg Larsson series - My personal favorite), and I have taken up the new hobby of painting on canvas.

_____________________________
Education

Johns Hopkins University, Baltimore MA, Ph.D Candidate


University of Minnesota, Twin Cities, B.A. in Psychology, 2010.


Positions and Research Experience

Vanderbilt University, Nashville TN


Perception, Attention and Control Laboratory
Advisor: Adriane Seiffert, Ph.D.
June 2010 - June 2011
Research Assistant



University of Minnesota, Twin Cities
Attention, Memory and Cognition Laboratory
Advisor: Yuhong Jiang, Ph.D.
January 2010 - May 2010
Research Assistant



University of Minnesota, Twin Cities
Engel Vision and Imaging Laboratory
Koutstaal Cognitive Neuroscience Laboratory
Advisors: Stephen Engel, Ph.D. and & Wilma Koutstaal, Ph.D.
September 2009 - May 2010
Research Assistant


Relevant Coursework, Editing Experience, Computer Skills


See CV.


[ top ] [ People ]