Vanderbilt Is Founded 1873-1875
Cornelius Vanderbilt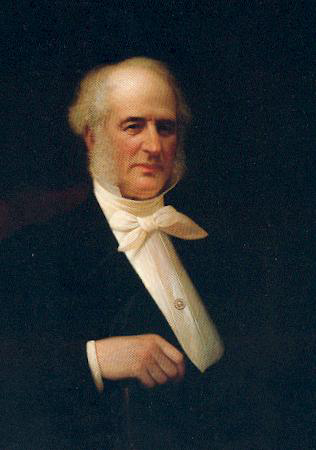 Cornelius Vanderbilt was born in 1794 on Staten island, New York, to a farmer and ferryman. He quit school at age 10 to run the family ferry. At 16, with the help of a $100 loan, he bought his own boat and started ferrying people and freight between Staten Island and New York City; repaying his loan in months. Two years later, during the War of 1812, he acquired a government contract to supply the six New York forts. Profits from this venture allowed him to build three sailing vessels, one, the largest schooner on the Hudson River. Commanding this vessel generated the "Commodore" nickname, a moniker he was glad to encourage by wearing regal naval attire.
Vanderbilt next sold his interests, and began running steamship ferries along the Hudson River, fiercely driving out the competition. He was a millionaire by the time he was 45, owned and operated more than 100 steamships running between New York and Boston, and had more employees than any other business in the U.S.
During the gold rush of 1849, Vanderbilt built docks and connecting road across Nicaragua and established a California steamship connection two days shorter than the previous route across the Panama isthmus. Now worth about $11 million, in the 1850's he built three more vessels for passenger service to France. One of these vessels was later refitted as a warship and used by the North in the Civil War. During the Civil War, nearly 70 years old, Vanderbilt entered the railroad business, acquiring the Central Railroad among others, and eventually controlled the New York - Chicago link.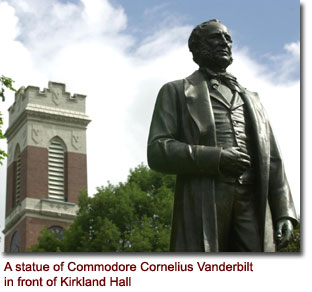 At age 75, now a widower worth almost $100 million, Vanderbilt married a woman from Alabama, who had a Nashville cousin, a Bishop in the Southern Methodist Church. Vanderbilt, who had 5 years of formal schooling, and seemed proud of the lack, whose philanthropic history was virtually nonexistent, swore like a sailor, and had never been in the South, was convinced after a few meetings with the Bishop in March 1873 to give 500-thousand dollars to start a Southern Methodist university "in or near" Nashville Tennessee.
Bishop Holland McTyeire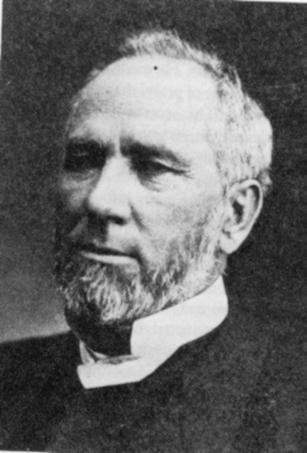 In October 1875 classes began at the new University, now named after Vanderbilt. In two years Holland McTyeire, now as President of the Board of Trust, had virtually single-handedly
selected the campus site
overseen the building construction and landscaping
and, along with Chancellor Landon Garland, selected the faculty.
Sixty-six acres of farmland on the "On the city's western border, reared against the sky", as sung in the Alma Mater, was selected. McTyeire liked its hilltop location and its view of the state Capitol. It had a single residence, which was to be used for housing and instruction for the Biblical school.
The university organization adopted at the 1873 convention called for five schools:
a theological school for the free training of Methodist preachers
a literary and scientific school ("Academic Department")
a medical school
a law school
and a "Normal" school.
These "schools" were initially referred to as "departments", a more appropriate term since each discipline, such as Chemistry, was covered by a single faculty member.

There were 115 students in the first Academic school.

Next Section: Psychology in Philosophy 1875-1911