Home » People
People
My primary research interest is centered on understanding the cognitive and neural mechanisms of selective attention. More specifically, my program of research has 2 main aims: 1) Determine the functional consequences and limitations selective attention; and 2) Determining mechanisms of selective attention. My empirical approach to address these aims combines the experimental rigor of cognitive psychology and multiple measures of brain function (functional magnetic resonance imaging (fMRI), electroencephalography (EEG)) and computational analyses. Using these methods, my work converges on the notion that selective attention is a flexible information processing mechanism that adjusts dynamically based on our internal goals and our external world.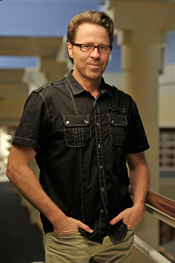 Jocelyn Sy, Post-doctoral Researcher
Matt Ginther, Graduate Student
Matt is working to pursue his Ph.D. in Neuroscience under the advisory of Dr. Marois as well as a J.D. from Vanderbilt Law School. His research in support of his Ph.D. is focused on the neurobiological systems that support human social interactions of relevance to the legal system.
Hana Eaton, Graduate Student
Lauren Hartsough, Graduate Student
           Post-doctoral Researchers
Dr. Benjamin Tamber-Rosenau
   Assistant Professor
   Department of Psychology
   University of Arizona
   Tucson, Arizona, USA
   Assistant Professor
   School of Psychology
   University of Queensland
   Brisbane, Queensland, Australia
Dr. Michael Tombu (2005-8)
   Defence Scientist
   Thinking, Risk, and
   Intelligence Group
   Adversarial Intent Section
   Defence R&D Canada — Toronto
Dr. Jason Ivanoff (2003-6)
   Assistant Professor
   Department of Psychology
   Saint Mary's University
   Halifax, Nova Scotia, Canada
         Undergraduate Students
Rachel Abeshouse (2010-12)
Natthew Arunthamakun (2011-12)
Nikhil Kulkaarni (2011-12)
Ellie Cosner (2009-11)
Janice Louie (2009-11)
Dennis Nguyen (2009-10)
Tristin Watkins (2007-9)
Senna Munnikhuysen (2009)
Megan Zoffuto (2005-8)
Amy Fruehwald (2006-7)
Tara Usakoski (2006-7)
Chris Suciu (2006)
Amy Gallagher (2006)
Jacquelyn Hudak (2005-6)
Shawn Price (2005)
Xin Lu (2004-5)
Steven Schulemborg (2004-5)
Emily Bratton (2003-4)
Myra McCluer (2003-4)
Elizabeth Ballard (2002-3)
Reed Evers (2002-3)
Gretchen Otermat (2002)
Kelly Robert (2002)
Chris Gilbert (2001-2)
Arica Pittman (2001)
Bonnie Bargmeyer (2000-1)
Holli Kubicki (2000-1)
                 Graduate Students
Dr. Doug Godwin
Anat Fintzi
Dr. Daryl Fougnie (2003-10)
   Post-doctoral Researcher with
   Dr. George Alvarez
   Harvard University
   Cambridge, Massachusetts, USA
Dr. Christopher Asplund (2005-10)
   Research Fellow
   Cognitive Neuroscience Laboratory
   Duke-NUS Graduate Medical School
   Singapore
Dr. Joshua Buckholtz (2006-11)
   Assistant Professor of Psychology
   Department of Psychology
   Harvard University
   Cambridge, Massachusetts, USA
Michael Treadway (2006-2012)
   Psychology Intern / 
Doctoral
   McLean/Harvard Medical School
   Department of Psychology
   Vanderbilt University
   Nashville, TN, USA

Dr. J. Jay Todd (2002-8)
   Post-doctoral Researcher with
   Dr. Sian Beilock
   Department of Psychology
   The University of Chicago
   Chicago, Illinois, USA

    Research Assistants
Samir Zughni (2011-12)
Justin Martin (2008-12)
Katharine Jan (2008-10)
Jonathan Stocking (2008)
Andy Snyder (2002-4)
Jay Todd (2001-2)
Laura Jones (2000-1)
---